I have been tracking domain name movements for a very long time, mainly with a focus on corporate activity. I use these movements—along with current and past WHOIS records—to justify my findings and often report domain sales on my @DotWeekly Twitter feed. There are many reasons and situations in which someone may be interested in domain name movement activity, so use cases will be different for each person.
Today, I am going to share with you several ways that you can track domain movements.
To do this, you need to understand what you can track and the restrictions of the tools and services available. Basically, several elements within WHOIS records are good choices to track but you will see different results depending on what you use.
You must understand each one though and why a domain appears in a report. At times, several things need to be confirmed to make a conclusion for the movement.
Tracking Options
Domain Name: Maybe you are interested in a specific domain name or even a handful of them. You can track specific domain names and when something changes in WHOIS records regarding this monitored domain: DNS change, registrar change, renewal etc. you can be notified of these changes when they happen. To do this, the term is called Domain Monitoring.
Registrar Email Address: Every domain name registrar is required to include an email address in WHOIS records. This email is normally an "abuse" email. Since each domain name at the registrar is assigned this email address, it can be used as a tracking method for a registrar. There are limitations on many tools used to track WHOIS records, so this method is best used on smaller registrars with only a few hundred new domains a day in most cases. Using the registrar email address on a large registrar like GoDaddy or Uniregistry is useless as the tool is limited by quantity.
Registrant Organization: Due to the passing of privacy laws GDPR and CCPA, both have changed the landscape of modern WHOIS records, essentially removing ownership identifying records that once displayed personal name, mailing address, email address and phone number of domain name registrants. In most cases, the only identifier now is the registrant organization and its not required to have anything in for it, so it still doesn't always work. If a company or someone you are interested in uses it, you're in luck!
Name Servers: Sometimes referred to as DNS, the name servers are part of the DNS and a record displayed in WHOIS records. Name servers on domain names can be domain parking companies, hosting providers, service providers, registrar default, domain brokerage and many more. Each name server has an IP Address but it is easiest to track by the name server name itself. If I was forced into having a favorite tool, I would pick name server tracking as #1! I have built up a list of name servers I like to check (hosting providers, companies etc) and keep track of, again with a corporate focus. Building your list will take some time, but WHOIS will be your friend for discovery and the name servers tools I will mention soon. Similar to the registrar email address method, name server changes can easily swamp a tools limits, so the smaller the name server, the better the tool can help. Most registrar default name servers for an example are not good ones to use as most have massive amounts of daily movements.
Here is a WHOIS record which is highlighting the above mentioned information mentioned, so you know what to look for.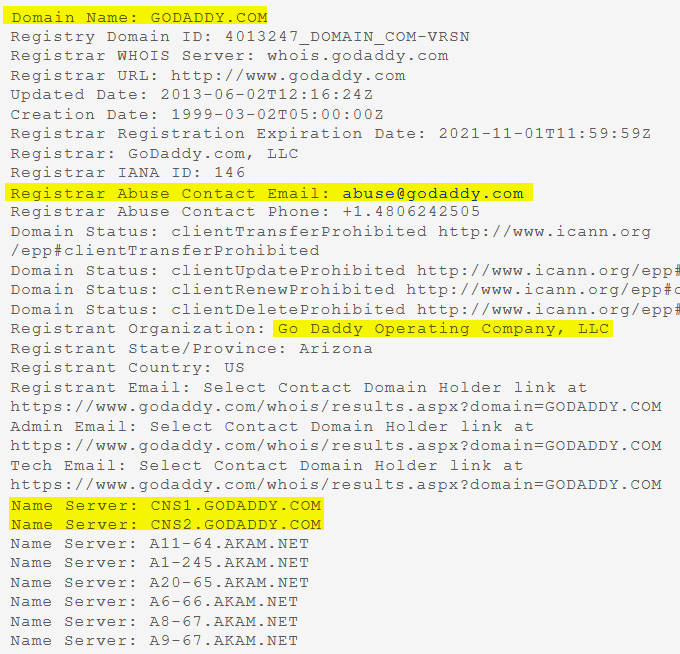 Services available to track domain movements?
DomainIQ.com
DomainTools.com
Those are the two services I'm aware of that I have used myself. DomainIQ and DomainTools are both specialty services that solely focus on domain related data and related tools. They are both pay services both offer Domain Monitoring & Registrant Monitor and more. Both also offer specialty name server changes tools:
DomainTools is called DailyChanges.com (requires a DT membership).
DomainIQ.com offers DNS.link
Both name server tools are a bit different and have different limitations. Each offer a most active name servers for the day, which is fun to look at by itself.
I personally use both DomainIQ and DomainTools every day. I mainly use Registrant Monitoring with email address and a few with a "name" instead of email address. I also enjoy the name server tools.
I hope this sheds some light on a few tools that you can use to find and track domain name movements and apply them to your needs or interests.
The information contained in this blog is provided for general informational purposes about domains. It is not specific advice tailored to your situation and should not be treated as such

.