Ground Cloth
The ultralight layer between you or your gear and wet ground.
IDEAL FOR
Flat Tarp & Ultamid Pyramid Tents
Minimalist Overnight Backpackers
Keeping Gear (and Humans) Off Wet Ground
THE POSSIBILITES ARE LIMITLESS
We built the ultimate, super lightweight Ground Cloth for minimalist overnight backpackers who like to sleep under the stars, but who still want foolproof protection for their gear from moisture, mud and dirt.

Ideal for goal-oriented adventurers constantly on the move and in need of fast protection from inclement weather, it's sizeable but weighs less than an iPhone. Pair it with our Flat Tarp or UltaMids (if not using the respective inserts). Made of 100% waterproof Dyneema® Composite Fabric (formerly Cuben Fiber), it serves as an excellent waterproof barrier between you and the ground. Stake it out with its reinforced loops so the wind doesn't blow it away.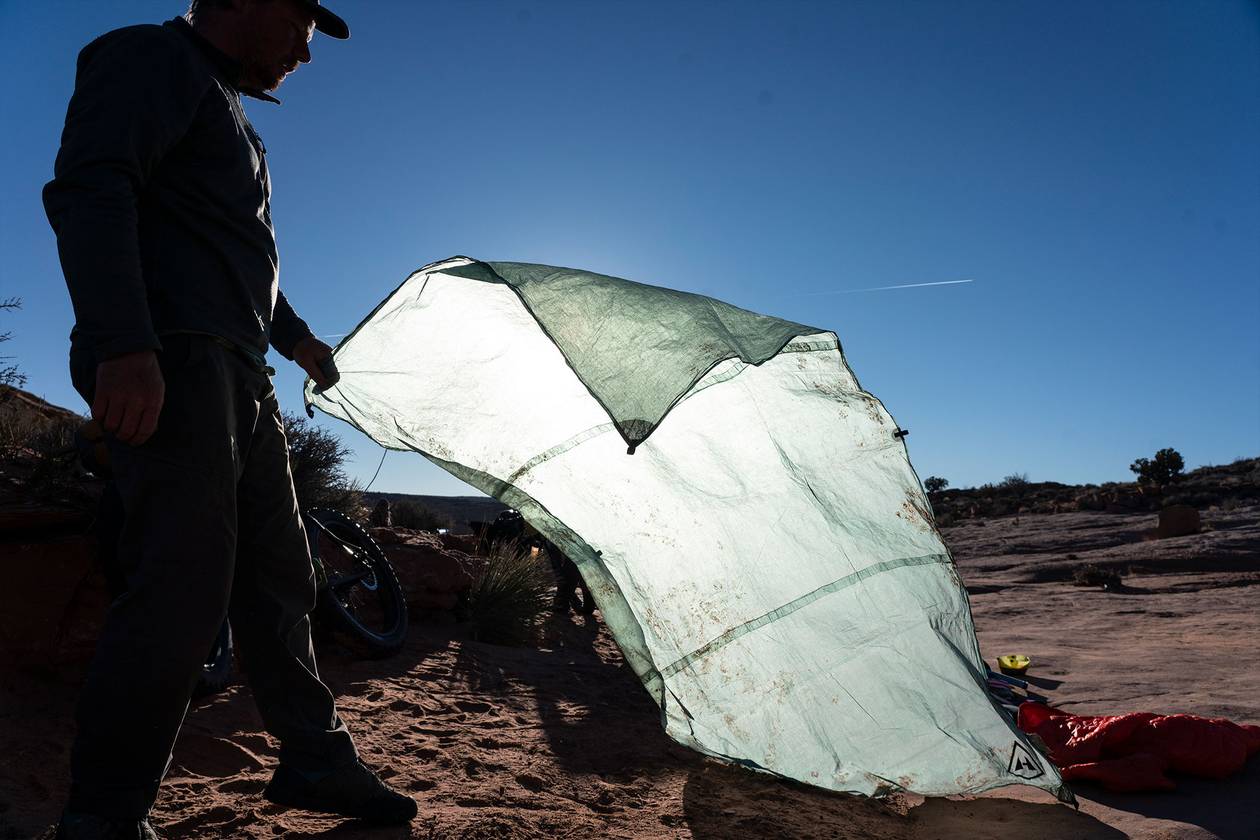 WHY CHOOSE THE GROUND CLOTH?
WHY CHOOSE THE GROUND CLOTH?
WATERPROOF MATERIALS
DCF8 Dyneema® Composite Fabric; 100% waterproof layer of protection between you and the ground
REINFORCED CORNERS
Reinforced corners with DCF11 Dyneema® Composite Fabric; a simple sheet designed for years of use in most any environment
MULTIPLE TIE-OUT POINTS
Six half-inch lightweight binding tie-out points. Keep your Ground Cloth in one place when the going gets windy
FEATURES
Stress Point Reinforcement:Corners Reinforced with DCF11 Fabric

Tie-Outs:Six 1/2" Lightweight Binding Tie-Out Points

Water Resistant:Yes

Compatible With:Flat Tarp & UltaMid Pyramid Tents

Includes:Small Drawstring Stuff Sack
Featured Product Reviews
Light in the Pack
I use the ultamid 2 with the half insert or not. The ground cloth works great at half the weight of my homemade ground cover. When it's windy I use titanium shepherd hooks to keep it from leaving with the breeze while I'm not on it. Good stuff.
Verified Buyer
Great
I was very surprised at how small this ground cloth packs down. I knew it would be high quality because that's what HMG is about. If space in your pack is at a premium, this is worth the $.
Verified Buyer
These are Great!
So useful, lightweight and well made. Just bought a second, as the first has been so useful - great for a camp, but also sees lots of use as a general purpose picnic/festival/backyard blanket. Highly recommend.
Verified Buyer
SPECS & DIMENSIONS
MaterialsDCF8, DCF11
Weight0.3 lbs | 4.0 oz | 111g
Packed Dimensions4.8" x 6.5" x 1.0" | 12cm x 17cm x 3cm
Area35 sq. ft.
Dimensions96.0" x 52.0" | 244cm x 132cm
Made InMexico
WHY CHOOSE THE GROUND CLOTH?
WATERPROOF MATERIALS
DCF8 Dyneema® Composite Fabric; 100% waterproof layer of protection between you and the ground
REINFORCED CORNERS
Reinforced corners with DCF11 Dyneema® Composite Fabric; a simple sheet designed for years of use in most any environment
MULTIPLE TIE-OUT POINTS
Six half-inch lightweight binding tie-out points. Keep your Ground Cloth in one place when the going gets windy
Features
Stress Point Reinforcement:Corners Reinforced with DCF11 Fabric

Tie-Outs:Six 1/2" Lightweight Binding Tie-Out Points

Water Resistant:Yes

Compatible With:Flat Tarp & UltaMid Pyramid Tents

Includes:Small Drawstring Stuff Sack
Product Video
FREE SHIPPING ON ORDERS OVER $200